Session jewelry, a brand for purist riders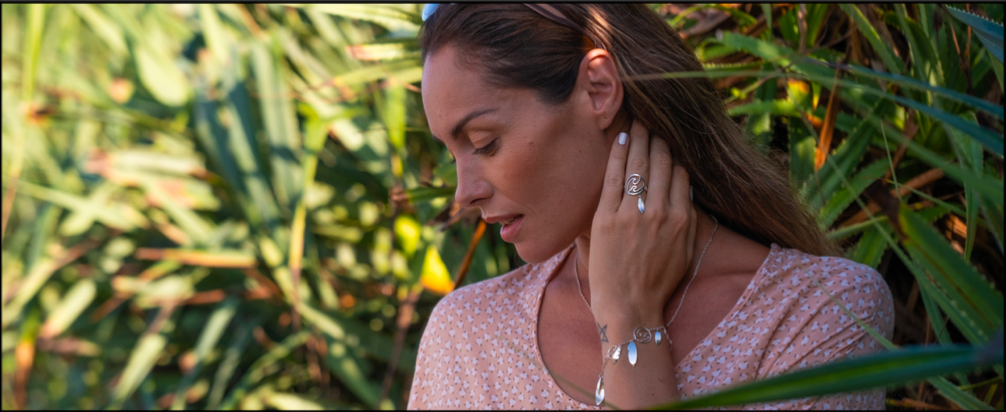 As a couple who have made Bali our home for 18 years, we have a shared passion for creativity, adventure, and sustainability. That's why we founded our unique surf and skate jewelry, which embodies the essence of Bali and its culture. Our brand represents our love for the island and its people, as well as our commitment to making a positive impact in the world. With Emmanuel, a longboard dancer, surfer, and international DJ, and Cecile, a dance teacher and longboard dancer, we bring our passion for the sport and our love for the island to the brand, making it a true representation of the surfing and skating lifestyle in Bali. We don't see our brand as just a fashion line, but a way of life that reflects our love for the ocean, adventure, and the laid-back Balinese way of life. Our story serves as an inspiration for those seeking to follow their passions and make a difference. Join us on this journey and experience the essence of Bali through our brand.  
We are à skate and surf surf jewelry founded in 2021. Our brand embodies the essence of the surfing and skating lifestyle, and we offer something for everyone. We are passionate about sustainability, quality, and design, and we believe that this shows in the products we offer, skateboard pendant, surf bracelet or skate necklace. Whether you're in need of a new longboard for dancing, a surfboard for catching waves, or stylish apparel, we've got you covered ;). So, if you're a pure skater or surfer, we invite you to join us on this journey and discover what we have to offer.
We are committed to making a positive impact in the world, and we strive to reduce our carbon footprint through eco-friendly practices and sustainable materials in our products. Whether you're surfing the waves or cruising on your longboard, our surf necklace, will provide you with the satisfaction and style you need, while also supporting our mission to protect the environment with our surf jewelry. Join us in our commitment to a greener, cleaner ocean and a better world for future generations of surfers and skaters.
We offer a range of surf pendant, skate necklace, skate bracelet, surf ring, and skate earrings, all made of 925 sterling silver. Our jewelry pieces are all inspired by surf and skate accessories, from longboards to classic skateboards, even surf fins. Each jewelry is designed to reflect the essence of the surfing and skateboarding lifestyle, and to be worn as a symbol of your passion for the sport. Whether you're looking for a statement piece or a subtle accessory, we have something for everyone in our skateboard and surf collection. So, show off your love for surfing and skateboarding with our beautiful, high-quality jewelry, made from sustainable materials. Each piece is handcrafted using traditional techniques, ensuring that each item is unique and of the highest quality. By supporting our brand, you not only show your love for surfing and skating, but you also support local communities and traditional crafts in Bali.
At our brand, we believe in giving back to the community and making a positive impact on the environment. That's why we're committed to donating 1% of our profits to the Bali Sea Turtle Association. This organization is dedicated to protecting marine turtles and their habitat in Bali. Through various initiatives and programs, they work to educate the public, conserve turtle populations, and preserve their natural habitat. By supporting the Session Jewelry, we aim to make a difference and help protect these magnificent creatures and the ocean they call home. When you shop with us, you can feel good knowing that your purchase is supporting a greater cause and contributing to a more sustainable future for the sea turtles and the ocean. Join us in our mission to protect the environment and make a difference, one piece of skate jewelry at a time. 
Our brand is committed to delivering our surf jewelry to customers all over the world through reliable and fast shipping with DHL. In addition to our online store, we also have several physical locations in Bali where you can come and see our surf and skate pendant in person. This not only allows you to see and try on our products, but it also supports local businesses and helps to further promote the surf and skateboard culture in Bali. So, whether you're located in Bali or anywhere else in the world, you can feel confident in your purchase knowing that you'll receive your skate and surf jewelry quickly and in the best possible condition.